Equinet turns 10 this year! This will be cause for celebration and reflection throughout the year, especially at our anniversary conference and accompanying celebrations, due to be held in October.
Further highlights of the main Equinet activities, as based on the 2017 Work Plan, can be found below.
A. BUILDING CAPACITY AND PEER SUPPORT OF EQUALITY BODIES
Providing and facilitating peer support and sharing expertise for the staff of equality bodies are key factors in effective capacity building, which is a constant priority for Equinet.
In 2017, there will be a number of seminars and other training opportunities for our members.
**Seminars
Seminars explore key issues and developments in the field of equality and non-discrimination at national and European levels with a view to support staff members of equality bodies to learn about, engage with, and develop expertise in these issues and developments. Seminars provide important opportunities for exchanges and networking between equality bodies and for peer learning and support between equality bodies.
Seminars are open to staff members of equality bodies responsible for or working on areas related to the seminar topic.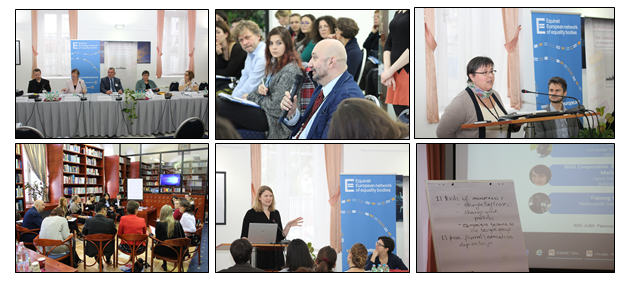 Equality bodies tackling discrimination against people with intellectual disabilities (9-10 March, Zagreb, Croatia)
Equinet, together with the Croatian Office of the Ombudswoman for Persons with Disabilities, will organise a seminar for staff members of equality bodies that will touch upon specific challenges encountered by people with intellectual disabilities and the available framework at international and European levels. It will address issues connected to the day-to-day work of equality bodies, such as underreporting, reasonable accommodation, stereotypes, cooperation with Disabled People Organisations (DPOs) and intersection with other grounds of discrimination.




Breaking the glass ceiling: career progress and promotion patterns experienced by women (date in November tbc)
This seminar will explore ways in which equality bodies combat discrimination against women in career progress, including analysing case studies and comparing good practices. Promotional activities, cooperation with employers and awareness-raising activities will also be considered, including exploration of the potential inherent in the proposed Women on Boards Directive. The seminar will extend Equinet's work on gender equality in the field of employment.




**Training Sessions
Training events for staff of equality bodies will provide participants with the opportunities to immerse themselves in a particular topic in a manner that develops and deepens specific skills and expertise. Participants are nominated by Equinet member organisations on the basis of their responsibilities or interests in the topic addressed by the training events.




Communicating Equality: Social media for equality bodies (4-5 April 2017, Dublin, Ireland)
In order to further disseminate the learning from the training that took place in October 2016, Equinet will organise another training session that offers social media training for those working in communication. It will provide expert advice that improves social media use in general and give practical examples and evaluations of social media campaigns carried out by our members. The training session will also address how to deal with online hate speech on social media.




How to Build a Case on Equal Pay (date tbc)
Equinet will organise a training session for experts working with equal pay cases in equality bodies. This will focus on the Gender Equality Working Group's 'Handbook on How to Build a Case on Equal Pay'. The training session will offer practical tools, methods and examples to successfully litigate equal pay cases. It will also provide a platform for peer learning and sharing of good practices among the participants.




Strategic Litigation (date tbc)
Equinet will organise a training session for senior lawyers and legal policy staff in equality bodies on strategic litigation. The training session will build on the discussions in the Equinet Strategic Litigation Cluster and the 'Handbook on Strategic Litigation' produced by this Members' Cluster in 2016 (due for release early 2017). Participants will have the chance to explore and discuss, using a number of case studies, the benefits and challenges of strategic litigation and the selection criteria and different techniques to be used for successful strategic litigation.




B. CONTRIBUTING TO THE EUROPEAN EQUALITY AGENDA
Equality bodies are on the front line in the work of promoting equality and combating discrimination across Europe. They have developed practical experience, learning and expertise in their implementation of equal treatment legislation in their country. As per the Equal Treatment Directives, they are empowered to contribute to policy formation at national level by making recommendations on the basis of their work. At a European level, the combined and diverse learning from the work of the various equality bodies has a valuable contribution to make to policies and work promoting equality and combating discrimination, as well as to the mainstreaming of non-discrimination and equality in all policy areas.


**Conferences
Conferences explore key issues and developments in the field of equal treatment at national and European levels. These high-level events provide opportunities for exchanges between equality bodies, EU institutions and other stakeholders. They raise the profile of Equinet and national equality bodies as expert institutions in the field of equal treatment.
Conferences are open to senior staff and experts of equality bodies and to representatives from European organisations and external stakeholders.
Making Europe More Equal: a legal duty? (4 May, Brussels, Belgium)
This conference will be based on the outcomes of the Equinet research paper on positive and equality duties, published in 2016. General equality duties requiring the duty bearer to have due consideration for equality when implementing any activity are relatively rare in Europe. Positive duties targeting specific areas (like remuneration or staffing policies) are relatively more widespread, yet the role and functioning of both these structural measures aimed at promoting equality have so far been under researched. This conference will serve the dual function of raising awareness of the existence and structure of positive and equality duties among decision makers, while generating more knowledge in the field by bringing together academics and practitioners to discuss the challenges and opportunities inherent in such measures.




Integration of migrants and refugees in Europe: the contribution of equality bodies (date tbc)
Equinet will organise a conference on the contribution of equality bodies to the integration of migrants and refugees in Europe, the challenges they encounter and ways forward for cooperation with relevant stakeholders. Equality bodies have the mandate to protect any victim of discrimination regardless of nationality and citizenship. At a challenging time marked by the rise of far-right parties, hate crime, hate speech and increase of arrivals in Europe, the contribution of equality bodies is essential to protect migrants and refugees from discrimination and support their integration.




10th Anniversary Conference: past, present and future of equality bodies and non-discrimination in Europe (10 October, Brussels, Belgium)
2017 marks the 10th anniversary of Equinet. Since 2007, Equinet membership has grown from 7 organisations and countries to 46 national equality bodies in 34 European States. The national and European context in which equality bodies have evolved has changed a lot, from key legislative achievements to greater economic and social challenges. This conference will aim to take stock of the progress made and the contribution of equality bodies in addressing non-discrimination in Europe. The conference will showcase the achievements of equality bodies at national level over the last ten years as well as focus on the important outlook for the future, exploring ways forward and possible steps to enhance equality bodies' contribution to an equal Europe.
The conference will be followed by a celebratory get together to celebrate our achievements with friends and colleagues, and reflect on future objectives in a relaxed atmosphere.
The Annual General Meeting of Equinet members will be held the next day, on 11 October.
FURTHER INFORMATION
Staff members of equality bodies will continue to meet within their working groups on communication strategies and practies, equality law, gender equality and policy formation throughout the year.
They will also meet within the contexts of our Clusters on Quasi-judicial Functions and Research and Data Collection, and our Project on Combating Violence Against Women and Gender Based Violence.
Equinet, together with member equality bodies will continue to participate in the thematic platforms that have been set up together with the Council of Europe (CoE), the European Network of National Human Rights Institutions (ENNHRI) and the European Union Agency for Fundamental Rights (FRA). The topics covered by each platform are:
Platform on rights of migrants and asylum-seekers (coordinated by FRA)
Platform on hate crime and hate speech (coordinated by FRA)
Operational Platform for Roma Equality (coordinated by CoE)
Platform on advancing social and economic rights and socio-economic equality (coordinated by CoE)